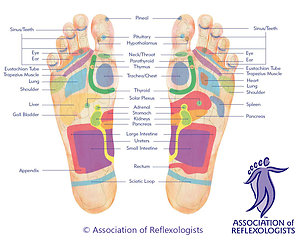 About Reflexology
Reflexology is an ancient therapy which has been practiced for over 5000 years. It is the technique of applying gentle pressure to reflex areas on the feet and hands to enhance relaxation and stimulate the body's ability to fix and heal itself.

It is a therapy that is recognised by the NHS as a Complementary and Alternative Medicine (CAM).

What Benefits Can Be Expected?

Stress Reduction - it is recognised that 75% of all illness is stress related. Stress can impact our immune systems and make us prone to illness and disease. Reflexology reduces stress by enhancing deep relaxation and by helping the nervous system to calm down and function correctly.

How Can Reflexology Help?

Encourages the body to heal and fix itself.

Reduce the effects of stress.

Promotes relaxation.

Improves the immune system.

Encourages better circulation.

Eliminates waste and toxins from the body.

How Does Reflexology Work?
The theory behind reflexology is that the systems of the body - the organs, nerves and glands - are connected to reflex points and reflexologists believe that by stimulating these areas, you can create a direct response in a related body area.

Can Reflexology Help Me?
Reflexology is suitable for people of all ages, for relaxation purposes, to improve your mood and general wellbeing, to help you sleep better, and release tension.



Get in touch to book a session

here