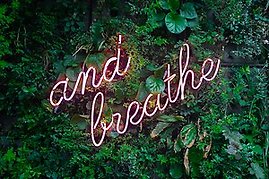 Reflexology and BodyTalk - Complementary Therapy in Lewisham, South East London
Welcome to Feet Up Therapies, based in Lee, Lewisham near Greenwich in South East London.

Would you like to have more energy, recover faster from ailments and become more resilient to illness and stress? Do you suffer with pain, anxiety, insomnia or just find it hard to relax?

Then you're in the right place! Reflexology and BodyTalk are simple, relaxing and non-invasive complementary therapies that could help you.

I am Lynsay Brown, a qualified Reflexologist and Certified BodyTalk Practitioner in South East London (SE12).

My treatment room is based in Lee, Lewisham, not far from Greenwich, Blackheath, Hither Green and Eltham, easily accessible from London Charing Cross, Waterloo East and London Bridge stations.

Have you have been suffering from a chronic or recurring illness that you just can't shift or feel worn out and in need of a health MOT? Then please get in touch today.

"I absolutely love this hour of total relaxation. A chance to completely switch off and let Lynsay work her magic! I was surprised at how much reflexology helped me deal with my volatile hormone levels and keep me more level-headed when trying to cope with my equally volatile children! Would 100% recommend."
"My first BodyTalk experience was great! Lynsay is professional and calm and I immediately felt at ease in her beautiful treatment room. I was also amazed at how fast BodyTalk works. The joint pain I had been experiencing for years was alleviated after one session."
"I felt so relaxed and de-stressed after my session that I went into a deep sleep that night, even though I was going through a very difficult time."
"I came to see Lynsay after suffering from terrible insomnia for three months. During the first session I physically felt as if a huge pressure was lifted off my body. It was amazing and after just the first session I slept more. After three sessions my sleep was back to normal and I'm incredibly grateful to Lynsay and BodyTalk for helping me restore my sleep and put my life back to order!"

Looking for a
qualified Reflexologist
or
Certified BodyTalk Practitioner
near Greenwich and Blackheath in Lewisham, South East London?
Just Click here to book a session.