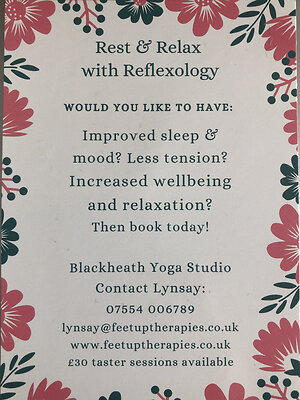 Reflexology in Blackheath Village, South East London
* I am not currently taking on any new clients due to relocating out of London *

Welcome to Feet Up Therapies, based in Blackheath, Lewisham near Greenwich in South East London.

Would you like to feel less anxious and more relaxed? Would you like to sleep better and feel less tense? Would you like to see an improvement in your mood and general overall wellbeing?

Then you're in the right place! Reflexology is a simple, relaxing and non-invasive therapy that could help you.

I am Lynsay Brown, a qualified Reflexologist based in Blackheath, South East London (SE3).






"I absolutely love this hour of total relaxation. A chance to completely switch off and let Lynsay work her magic! I was surprised at how much reflexology helped me deal with my volatile hormone levels and keep me more level-headed when trying to cope with my equally volatile children! Would 100% recommend."
"I felt so relaxed and de-stressed after my session that I went into a deep sleep that night, even though I was going through a very difficult time."
Lynsay is extremely professional and I have found the reflexology sessions very relaxing. I am always impressed with how in tune she is with my body. Reflexology has complimented sessions i've been having with a physio and personal trainer for old injuries and week after week Lynsay has been able to identify and work on my key problem areas. I would highly recommend!"
Looking for a
qualified Reflexologist
in Blackheath, Lewisham, near Greenwich in South East London?
Just Click here to book a session.